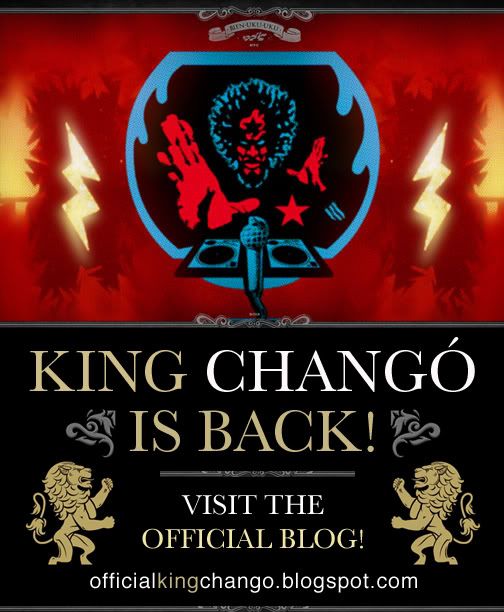 ARTIST INFO - KING CHANGÓ
Latin Ska / Reggae / Funk
 / Hip-Hop
Formed 1995, in New York, NY, USA

Based in New York, NY, USA
Members: Blanquito Man (born Andrew Blanco), vocals, percussion, moves; Luís Eduardo Blanco, keyboards, accordion, cuatro, percussion, backing vocals; Glenda Lee Vigoroux, bass; Luís Jésus Ruíz, drums, percussion; Miguel Oldenburg, guitars, backing vocals; Vincent Veloso, Saxophone; Kamil Zelaa, trumpet; Sammy Zelaa, trombone, percussion. (Members are from Venezuela and USA.)
Like Haiti's Boukman Eksperyans and the U.S.'s Spearhead, the Venezuelan/American King Changó's style is an exhilarating cultural whirlwind that sweeps from Argentina to the Arctic, recognizing no national or musical borders along the way. The path it carved in the English-only wasteland of U.S. rock was wide enough to let Ozomatli, Los Amigos Invisibles, Bloque, and a gathering host of others charge through, prying open the cracks made by Santana and Los Lobos on previous attempts. Changó's music switches from Latin ska to African funk to bluesy rock and beyond like a stuck satellite channel-changer, on a wavelength scrambled to none: If you don't understand the often-Spanish lyrics, you will, as Boukman's Lôlô Beaubrun once remarked to this writer, "understand the music with your body." Changó has a sophisticated but spontaneous sense of what makes people jump the world over, and unlike the Anglo-dance flavor of the minute, their arsenal includes something other than inebriation and volume. After mightily bringing forth much of the mid-'90s AlterLatino revolution, even they needed a day of rest, studio-wise — but at presstime the three years they gave everyone else to catch up was about to end with the summer-'99 Return of El Santo. Consider yourself warned—and be there early.
HISTORIA
La banda debe su nombre a el dios afro-cubano de la guerra Changó.
King Changó tiene sus comienzos en el año 1994 con apenas cuatro integrantes. Andrés Blanco, mejor conocido como Blanquito Man, emigró desde Venezuela a Nueva York, en busca de mejores oportunidades en su carrera artística. Empezaron a tocar una mezcla de reggae y ska, pero la gran variedad cultural de La Gran Manzana, filtró su música y comenzaron a fusionar, lo que ya hacían, con salsa, vallenato y cumbia. En el camino de este intenso viaje se agregaron cuatro músicos más y la banda enriqueció su sonido y su capacidad de experimentación.
Fue precisamente esta fusión de sonidos lo que llamó la atención de David Byrne, dirijente de la compañía disquera Luaka Bop, y con el cual firmaron un contrato para su disco debut titulado con el mismo nombre de la banda. Rápidamente alcanzarían la cabeza del Rock Latino Internacional. Es a partir de este primer disco que se dan a conocer en puntos muy distantes del orbe, como Venezuela, México, España, o Japón.
La publicación de su segundo disco "El Regreso del Santo", en el 2000, sería su último trabajo discográfico. El disco es un tributo al héroe mexicano El Santo, combinados ritmos de Trip-Hop, baladas, Ska-Punk, Drum'n'Bass y ritmos venezolanos. Posteriormente, en el 2003, la banda cesó de producir música como agrupación y comenzaron otros proyectos musicales actualmente en curso.
El grupo ha obtenido varios premios: El Sesac Latino de 1997, "Mejor Grupo de Rock Latino en los Estados Unidos" de la revista "La Banda Elástica".
KING CHANGÓ REVIEWS
"Latin music is given its hardest edge by New York based band King Chango. Combining dancehall chants, deep space dub, straight up skanking and Latin rhythms, King Chango creates some of contemporary music's most intense dance music. According to Spin magazine, the band combines "Gen-X irony with the street energy of classic salsa and a hyperactive horn section." King Chango...was formed by Venezuela born lead vocalist Andrew "Blanquito Man" Blanco, a second degree blackbelt and graphic designer who designed the logos for professional soccer teams, the Toronto Raptors and the Florida Panthers.......King Chango's self-titled debut album, released in 1996, was described by - Dirty Linen as "a truly subversive release with tons of positive energy". The group's lyrics, mostly written by Blanco, take an anti-drug, anti-violence and pro-revolution stance." ~ Craig Harris, All Music Guide
"Chango has always been the kind of band that makes critics send out for extra hyphens, and the syntactical struggle continues with El Santo.......Blanco (known to his song publisher as Jose Andres Blanco and to his fans as Blanquito-Man) attributes Chango's chemistry to the cultural collisions found in their New York City homebase, as well as their (fluctuating) Latin/Asian/American membership." - Adam McGovern - Sonicnet
"Rock 'n' roll has always thrived on its ability to scramble musical ingredients from different races, classes and regions into something unprecedented. By adding the smorgasbord of Latin musics to the menu, the rock en espanol movement has exponentially expanded the possible combinations. No band has taken better advantage of this opportunity than King Chango...." - Geoffrey Himes, Washington Times
"The neon-anime/carnival/wrestling-ring graphics and genre-fissioning music of King Changó (Luaka Bop, 1996, prod. José Andrés Blanco, King Changó) marks one of those historic pop moments when you don't know what hit you and are too dazzled to care. And listening back, the effect of "God Damn Killers" and "Don't Drop Your Pants"' political punch, "Melting Pot" and "Revolution/Cumbia Reggae"'s lilting multicultural overtures, and "Latin Ska" and "Melting Pot Intro"'s poly-jazz workouts doesn't wear off. The band runs such an idea surplus that even the end-of-disc "secret" tracks — some kickin' low-tech basic chants — have a rare reason for existing, with only the stalker-y "So Sweet" to threaten their Best New Band of '96 status. An album that put "AlterLatino" not just on the map, but all over it.... The Latin-ska masters honor some Anglo-reggae precursors with "Venezuelan in New York" on Outlandos D'Americas: A Rock en Español Tribute to the Police (EMD/Ark 21, 1998)." - MusicHound World: The Essential Album Guide, Visible Ink Press.
".....Venezuelan-born New Yorker Blanquito Man, aka Andrew Blanco, is the blond-dreadlocked leader of King Chango, the main outdoor event at this years Jazz Fest. His arsenal of talents includes soccer, political activism, graphic design (hes done logos for world-leading sports branding company SME Inc, i.e. the Toronto Raptors, New York Islanders and Rangers, Florida Panthers, etc.) and visual coordination for their outdoor performancenot to mention the specially created photo-illustration work that graces the cover of this very paper.......Then theres his music. As zingy as pabellon criollo, Venezuelas national dish, the songs are a fusion of every single genre ever invented (or at least ska, salsa, reggae, cumbia, dub, hip hop, mariachi and rock)." - - Adam Gollner, Montreal Mirror Cover Story - June 2002
"Too much stale music got you on the ropes? King Chango is here to save the day."
- CMJ album review
"FUNKY SKALSA CREW EXPLODES AT HARBOURFRONT"
"Three or four seconds into King Chango's high energy blitz…an ecstatically bouncing contingent … formed a mosh pit stage right…whipping themselves into a lather over King Chango's funked-up skalsa fusion. At the center of the action was high-stepping frontman Andrew Blanco. Blanco did a masterful job of working the crowd, racing back and forth…to enthusiastic cheers…. (he) knew how to shake his ass and bleach blond dreads to make the teenagers scream." - Tim Perlich, King Chango live at Harbourfront, Toronto, Canada, 2001
¡ LONG LIVE THE CHANGO !
"Diamond cut frontman Blanco…You gotta be doing something right when you can keep a group of people of all ages and persuasions jumping around for an hour and a half in a blissful state … even when they seemed unfamiliar with your songs… none left disappointed… (King Chango) was fresh, invigorating ... fulfilling. Long Live the Chango!" - Polly Coufos, King Chango live at the Watershed, Perth, Australia, Jan 2002
"Hispanic Stars Shining in the Pop Universe"
"Concerts are selling out and producers have noticed…" - The New York Times
"Best New Music – King Chango"
" King Chango's style is comfortably its own and its self-named "Latin ska" proves a winning combination. Lyrics are sung in English, Spanish and patois. .. Perhaps best of all, though is how refreshing it is to hear ska liberated from the protective confines of the ska purists." - Scott Frampton, CMJ New Music
"King Chango offers masterpiece debut…"
"Anything goes stylistically, and dance music is … a cause for celebration."
- Ernesto Lechner, Latin Beat Magazine
"Band Draws its flavor from the Whole Enchilada" - Candy Darling, Orange County Register
"King Chango rules over pop potpourri" - After Dark, NY Daily News
"We like our live performance to be very entertaining. It is about adrenaline."
- Andrew Blanco, King Chango
CLICK ON IMAGES FOR FULL SIZE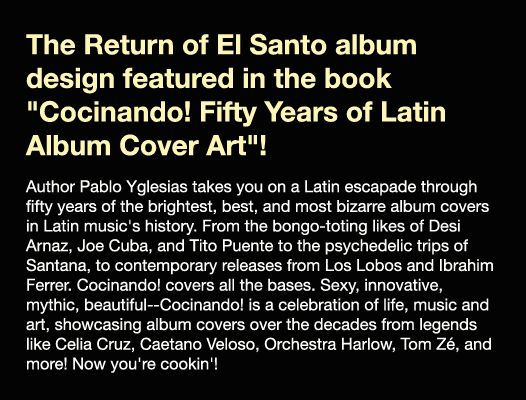 Cocinando! at Amazon.com